Chelsey over at
Paper ♥ Camera
does a weekly photo challenge. Rules are pretty basic, take a photo and touch it up.
Ever find that now being an owner of a digital camera you can just click till the cows come home? Well my cows finally came home and it was time to clean house. I had to get rid of some dogie photos, you know the kind that are just so-so but they still hold a soft spot.
I run across one of those dogie photos today, is it really a keeper or do I toss it?
It was taken back in 2006 with my Canon PowerShot. Way before the time of my Nikon. Notice all the distractions? It was Christmas, time to still be in PJ's and to be buried in rubbish.
I found a new action
(Amy McMaster's Squeky Clean)
that I am trying out, Thanks
Ashley
for mentioning it.
I first pulled up the original into ACR, yes I still use that haven't found a good enough reason to switch to Lightroom. I adjust the exposure there. Then the original is loaded into Photoshop where I do a quick crop.
Now for
Amy's Squeky Clean Action
run.
I found that I only had to do a few adjustments with the action. Thanks Amy and Ashley you really have saved my work flow not to mention what could have been a lost photo.
Leigh Vs. Laundry
also does a weekly photo challenge. It's based on posting something that makes you Wildly Happy. Well I have to say that I am pretty Happy that I have been able to do a photo rescue.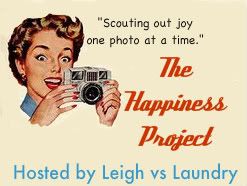 Turning of the color and adding brown edit -
Here is another version of the edited photo but this time I put
Esabelle Lafrance' Antique Brown Wash
and
Kim Klassen's 10-10-10 texture
to the image for a brown, dirty, vintage feel.
I have also entered the photos in these Tuesday Photo Challenges. Check them out for some great photo practice.